---
"Yoshimi and Carolina Shout" has been playing traditional jazz for 20 years mainly in Tokyo, Japan.
They released CDs "THREE STEPS" in 2003, "CHOKOT CONCERT 2005", "TOKIO RAG" in 2008.
The band is sextet form - piano, guitar, bass, drums, trumpet and clarinet.
In 2007-2009, they were invited to Elkhart Jazz Festival in Elkhart, Indiana
and their performance got good reviews.
Their appearance was reported in " The Mississippi Rag"
and some Newspapers in Indiana like "The Truth " and "The South Bend Tribune".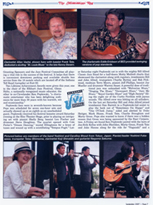 (The Mississippi Rag Sep.2007)
"If there were a festival award for sheer, honest dedication to the music,
it would have to go to Yoshimi and Carolina Shout.
This group of jazz veterans from Japan reaches out
with classic New Orleans two-beat messages straight from the heart,
and the dozens of jazz lovers inside the RiverWalk Pavilion Sunday afternoon
for the weekend's final concert heard them loud and clear."
(By Brent Banulis: South Bend Tribune July.2009)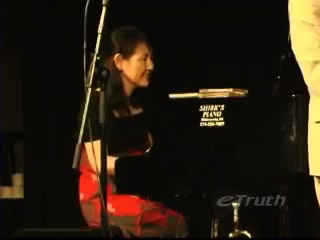 (Click to play a video)
Currently the band plays in sextet or septet format at jazz festivals and in concerts constantly.
---
| | |
| --- | --- |
| | |
| Played with Bill Allred in 2008 | Played with Jon-Erik Kellso in 2009 |
---
Now on Sale!! ¨ CD Information
---
Yoshimi Fukasawa (Leader,Piano)
Yoshimi has started her professional career at her age of 21.
From 1992 to 1996, she was a regular pianist of Raymond Conde (clarinet) trio
at Ginza Maxim de Paris, and currently plays at piano bar Ginza Orions.
In her career, she has performed at various concerts and jazz festivals including ;
Kobe Jazz Street (Hyougo, Japan), 1998-2001 and 2008-2011
Shinjuku Trad Jazz Festival (Tokyo, Japan), 2002-2015
Elkhart Jazz Festival (Indiana, USA ), 2007-2009
Yokohama Jazz Promenade (Yokohama,Japan),2007
And she presided Jazz Cruising at Ginza, Tokyo called "Jazz Hinamatsuri" succesfully on March, 2006-2016.
---
Tetsu Shimoma (Trumpet)
Since 1976, he has been a trumpeter with Yasuhiko Arima and Dixie Jive.
Also he performs with his own band "Tetsu-Gakudan" and many bands invite him as a featured trumpeter.
In his career, he has appeared many Jazz Festivals
including Sacramento Jazz Festival (1981,1983,1984) in California,
Montsalbat Jazz Festival in Melbourne, Australia,
Kobe Jazz Street in Kobe, and Shinjuku Trad Jazz Festival in Tokyo, Japan.
In Sacramento, he had an opportunity to play with clarinetist Chuck Hedges.
Also he has participated in dozens of recording sessions with Japanese jazz greats.
---
Shigematsu Tano (Acoustic Bass)
He started his professional career at his age of 18.
In 1988, he joined Tokyo Hot Club Band and appeared many concerts and TV shows, also recorded some CDs.
He has toured such country as France, England, Australia, and of course United States.
Especially, in 1999 he played at Sweet And Hot Music Festival at Los Angels
and in 2000 performed at Kansas City and received ghonorary citizen award of Kansas Cityh.
Currently he is very active as a freelance bassist.
Besides playing with many bands including Yoshimi and Carolina Shout, he plays on TV, radio, and musicals.
---
Hiroshi Hidaka(Drums)
He studied with Japanese famous drummers Takeshi Inomata and Yasushi Ichihara in his college days.
After supporting many vocalists, he joined "Yoshihiro Nakagawa's Dixie Dix" and " Kei Tani's Super Marcket" ,
played at many live houses and in TV programs.
He also leads his own band in pursuit of traditional jazz style drumming.
He performed at Sacramento Jazz Jubilee at 2000,
and many jazz festivals in Japan like Shinjuku Trad Jazz Festival,
Asagaya Jazz Festival and Yokohama Jazz Promenade,
and took place in many CDs with Dixie Dix,guitarist Hiroshi Abe and Kiyoshi Kobayashi, and more.